It's a growing trend within the real estate industry. A decade ago, real estate Transaction Coordinators were barely heard of and a unique concept within real estate. Now, you hear "Transaction Coordinator" or "TC" constantly throughout the real estate industry.
It's a growing trend within the real estate industry. A decade ago, real estate Transaction Coordinators were barely heard of and a unique concept within real estate. Now, you hear "Transaction Coordinator" or "TC" constantly throughout the real estate industry.
For example, check out this graph that shows the stable increase in Google searches for 'Transaction Coordinator' over the past decade. While interest certainly spikes during the busy summer months for real estate, it's hard to deny the consistent increase in searches for TC's.
Or, check out this search on Indeed. Just a quick search shows 368 jobs, this week alone, out there hiring for a TC
Or, look at Compass. Arguably the most progressive brokerage out there, Compass has on-staff transaction coordinators.
In fact, a quick Linkedin search shows they have 150+ transaction coordinators within the midwest alone!
While there are certainly many different explanations for this incredible growth, the primary reason for the growth of real estate transaction coordinators is quite simple: real estate is an incredibly competitive business. There's a reason 87% of real estate agents end up leaving the business within 5 years.
A strong real estate transaction coordinator can be a complete game-changer for your business & allow you to thrive, despite the competitive climate in real estate. In fact, real estate agents with TC's almost always close more transactions than real estate agents without. The reason why is simple: a good TC will simply handle the closing process on your behalf.
In this post, we'll walk through all the detail you need to know about transaction coordinators how they can help you grow your business, the types of coordinators, and how to find one.
What is a real estate Transaction Coordinator?
As any real estate agent knows, real estate transactions are complicated and involve multiple parties (buyer, seller, agents, lender, inspector(s), appraiser, at a minimum), significant compliance requirements, and incredible time investment. In fact, conversations with realtors show that most spend 15-20 hours per transaction during the closing process.
A real estate transaction coordinator, or TC, is dedicated to helping the real estate agent do their job efficiently by taking care of these contract-to-close administrative duties that take time and effort. For example, think of time-consuming tasks like scheduling inspections and documenting earnest money. With a good TC, agents can save the 15-20 hours spent on closing a transaction and instead focus on getting more deals under contract. Think of it this way: a good TC should handle everything in a real estate transaction for you.
Even better, since a real estate transaction coordinator solely focuses on contract-to-close, a good TC can get often complete the administrative side of a real estate transaction faster & more accurately than a real estate agent. The Transaction Coordinator has more experience than the agent when it comes to contract-to-close.
Outside of agents, some property owners can also hire real estate transaction coordinators on their own to handle a sale without having to hire a real estate agent. The TC will monitor and facilitate every step of the transaction from opening to closing. High volume investors, such as wholesalers or those with a large flipping operation, may sometimes hire a TC as well. However, the vast majority of TC's work for high-performing agents.
What does a real estate transaction coordinator do?
We've covered, at a high level, that the transaction coordinator handles administrative work from contract-to-close (e.g: the entire closing process) in order to save the real estate agents time.
Let's now look at some of the details of what a transaction coordinator will do within a transaction. It's worth noting that every real estate transaction is different. Many differences can change the transaction details, such as:
Differences in contracts and compliance between states
Financed vs. all-cash offer
Inspection contingency vs. "as-is" purchase
Seller occupied vs tenant-occupied property
New construction vs resale
Short sale, 1031 exchange, bank foreclosure, etc.
A good TC can handle work for either the buying and selling sides of a transaction & can assist a real estate agent across any of the differences within a transaction. In short, a good TC will handle all of the closing process on behalf of the agent.
Communication responsibilities of a transaction coordinator
Keep their agent appraised of all updates through the transaction
Keep everyone informed during the transaction of all dates, milestones, and contingencies.
Provide reminders as needed to ensure all contingencies are met (e.g: earnest money submission)
Contact title or attorney to confirm receipt of earnest money and store in compliance file
Contact lender to ensure the status of loan approval (if on buyer's side)
Monitor appraisal date and successful completion
Document responsibilities of a transaction coordinator
Ensure fully executed contract with proper dates, signatures, and initialed addendums. (Follow up with necessary parties if missing signatures)
Submit all documents to compliance within 24 hours of execution
Send disclosure packages and ensure signature from all parties
Ensure all parties (lender, title, attorney, broker) receive any and all amendments
Collect HOA information (as needed)
Follow up on all repairs conducted after inspection to secure receipts
Scheduling responsibilities of a transaction coordinator
Schedule & coordinate inspection between inspector and seller to ensure they are out of the house for inspection
Monitor appraisal date and successful completion
Schedule closing appointment with attorney or title company
Transfer responsibilities of a transaction coordinator
Ensure utility (gas, electric, water) transfer information is provided to all parties
Ensure key-transfer occurs between buyer and seller
As you can see, a good real estate transaction coordinator can handle dozens of different tasks within a file. To note: while none of these tasks are incredibly difficult to complete, they are extremely time intensive. That's why real estate agents have increasingly looked to hire a transaction coordinator to help them complete these tasks.
Why Should Real Estate Agents Hire Transaction Coordinators?
As we've alluded to already, real estate agents look to hire real estate transaction coordinators to free up their time.
There are multiple reasons why. For some, hiring a real estate transaction coordinator allows them to continue working in real estate part-time.
For most, they hire a real estate transaction coordinator in order to re-invest in themselves to grow their business. Let's look at an example:
The monthly schedule of a real estate agent working 60 hours a week and closing three transactions per month
In Close Concierge's experience, a high-performing agent will have a monthly schedule that roughly follows this distribution. We know this is a high-performing agent as the median agent closes approximately one transaction per month and this agent closes 3.
Remember from earlier that the average agent spends roughly 15 hours on contract-to-close per transaction when they don't have a real estate transaction coordinator.
The key takeaway here: this agent spends nearly half as much time on transaction coordination as they do on client work! With those numbers, it makes it harder for an agent to scale their real estate business to even more transactions per month.
At three transactions a month per year, the agent spends 576 hours a year coordinating transactions as part of the closing process. Remember: this agent works 240 hours a month. That means the agent spends 2.4 months (576 hours/240) a year on coordinating transactions!
There are limited areas where an agent can decrease their monthly time commitment
If this real estate agent wanted to gain more time back per month, the logical area to decrease time spent is on transaction coordination.
Top real estate agents must always spend time prospecting or marketing themselves. Even real estate agents with a strong referral network must spend time meeting with potential clients that were referred to them
Brokerage tasks and market intelligence work is required, and a small portion of their day anyways
As long as agents need to travel between different properties, travel time will always exist
Let's look at the monthly schedule of an agent who invests in their time by hiring a real estate transaction coordinator to manage the closing process.
The monthly schedule of a real estate agent working 60 hours a week and closing three transactions per month + a transaction coordinator
This agent has increased their time with clients by nearly 50%. As a result, their business has grown accordingly.
This agent has closed three transactions per month with 100 hours of client work. Let's assume that means they can close one transaction for every 33 hours they spend with a client (100 hours of client work/3 transactions per month). That is a ton of time dedicated to the closing process.
By adding an additional 45 hours per month dedicated to clients, they should now be able to close an additional transaction per month!
In fact, the agent now saves 576 hours per year without spending time on transaction coordination. At 33 hours per transaction, the real estate agent now closes an additional 17 properties per year!
Said differently, this real estate agent went from 36 transactions closed per year to 53 transactions per year by offloading transaction coordination!
Now that we've talked about how a real estate transaction coordinator can help agents increase their transactions per year, let's talk about the cost of a TC.
What is the standard transaction coordinator fee structure?
There are three different ways real estate transaction coordinators can be paid:
Full-time salary
Per-transaction fee
Monthly fixed price
Full-Time Transaction Coordinator Salary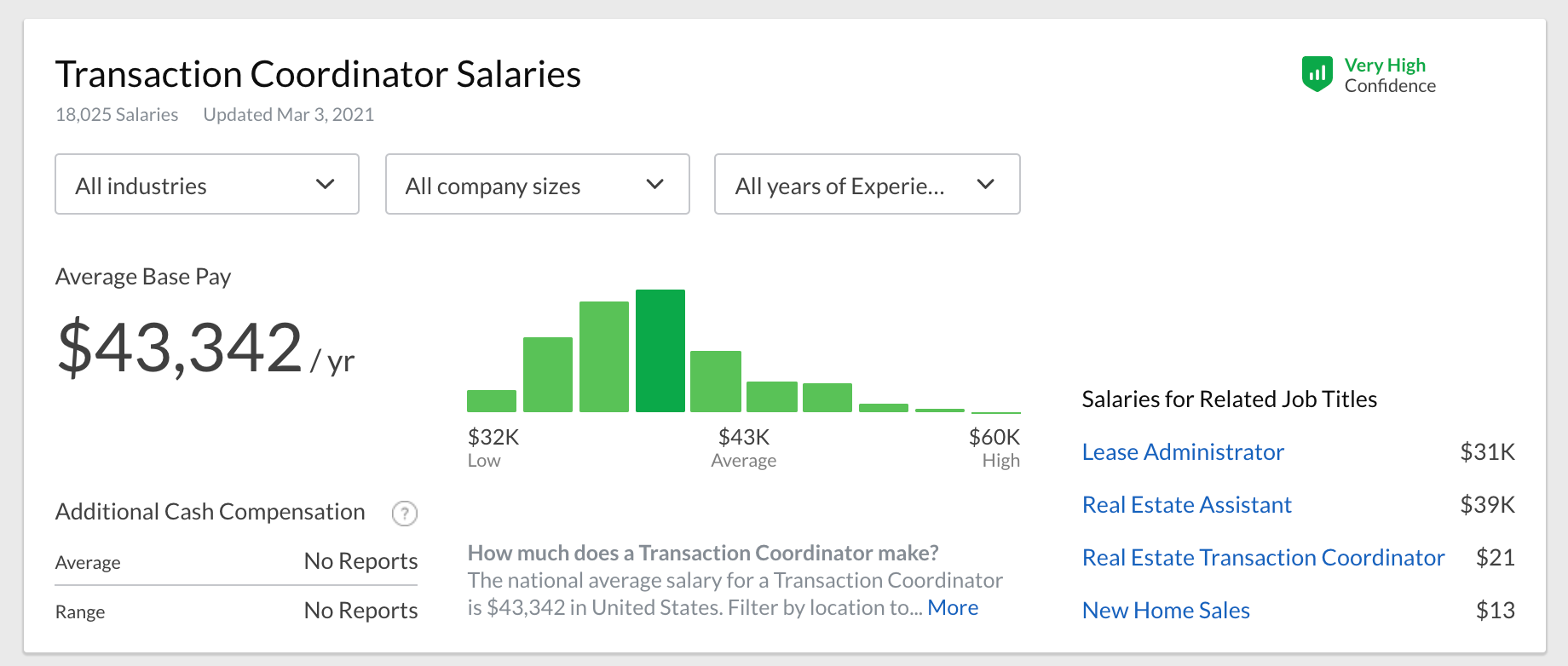 If you are interested in hiring a full-time transaction coordinator, Glassdoor shows the average TC makes roughly $43,000 a year.
However, very few real estate agents look to hire a full-time TC. We'll explain later why it does not make sense to do so for most real estate agents.
Per real estate Transaction Fee
Almost all transaction coordinators are paid on a per real estate transaction fee. While there are some slight differences based on the market, the industry norm is a $450 fee per transaction. If the transaction coordinator is assisting the real estate agent in a dual agency capacity, the per-transaction fee can be $700+. Think of this solely as a new real estate transaction means a new invoice from a TC.
This model can get confusing, however. Most TC's add on additional fees if a deal falls out of contract for their time spent working on the deal. In practice, it can mean a real estate agent may be surprised at the exact amount they are billed for their TC.
Almost all transaction coordinators are paid under this model. In fact, (to our knowledge) most transaction coordination companies also charge under this model
Monthly fixed price
The reason we said "most" transaction coordination companies charge a per-transaction fee is that Close Concierge instead charges a flat, monthly fee of $1,000 a month per agent.
This model is different than how most transaction coordinators charge but was designed this way after consistent feedback from real estate agents made it clear that a fixed price was better for them and their business.
Why a monthly fee for transaction coordinators makes more sense for agents
There are two key reasons why Close Concierge listened to agents and has always charged agents on a monthly basis instead of a per-transaction basis.
Know your bill
With unclear rules and fees, especially on deals that fall out from contract, agents have historically never known exactly how much they will be billed by their transaction coordinator. This has been referred to as the "Comcast" problem, where unexpected charges can dramatically increase the actual investment.
At Close Concierge, our expectation is to the number one customer service business, regardless of industry. Any sort of 'fees' is completely against that goal, and why we went with a monthly price.
Agents aren't penalized for growing
One complaint many agents have is they are 'penalized' for closing more deals as they then need to pay the transaction coordinator more.
Under the Close Concierge flat pricing model, agents don't need to pay more simply because they grew their business.
Is a real estate transaction coordinator a good investment?
Let's look at the math. In this example, we assume:
It takes 15 hours of admin work after a contract is signed that a TC can take over
The agent is now closing two transactions per month
It takes 45 hours of client time to get a deal under contract
The average commission is $10,200 (3% of the average home value of $340,000 in America)
The agent is working with Close Concierge and therefore pays $1,000 a month for unlimited, white-glove transaction support.
As you can see in the graphic, the ROI of a transaction coordination (in this case Close Concierge) is significant and increases the more real estate transactions closed. If you want to customize this calculation specific to your business, we have a transaction coordinator ROI calculator for you to try.
If we compare the ROI of a flat-priced model (Close Concierge) to a per-transaction model, you can see the ROI is significantly lower as the TC fees increase as the number of real estate transactions increase.
Let's bring back that graphic from before:
One thing you'll notice is the ROI is actually better for a per-transaction fee on only one transaction completed per month.
For that reason, Close Concierge tends to work with top agents who close two or more transactions per month.
Talk with us
Should I hire a real estate transaction coordinator?
Most agents would benefit from hiring a transaction coordinator in order to free their own time so they can instead focus on growing their business.
The key number for agents to keep an eye on is the number of transactions they close per month. Once that number is consistently one or higher, a transaction coordinator is a strong investment.
Agents who shouldn't hire a transaction coordinator are typically below that threshold of consistently closing one transaction per month. At this stage, an agent may still be new to real estate and could benefit from coordinating their own real estate transactions to learn how best to do so. Alternatively, these agents could also be part-time in real estate and an investment in a transaction coordinator does not make as much sense.
How to hire a real estate transaction coordinator
Hiring a transaction coordinator is a wise investment that saves you a lot of time and effort. Now that you've made the decision to move forward, let's help cover the key things you should think about before hiring a real estate transaction coordinator.
To do so, we'll first talk about the necessary skills a good TC should have & then discuss how best to find that ideal real estate transaction coordinator.
To note, this list will skip over some qualities that are assumed any good employee should have: honor, integrity, significant technical skill, being several that matter. These factors should be expected for the real estate industry and all real estate professionals.
Key qualities your real estate Transaction Coordinator should have
All of the below are criteria any transaction coordinator should have. This list is incredibly important to ensuring that your TC is truly able to save you significant time.
Implicit in saving you time is one key element: the transaction coordinator does not make mistakes. Mistakes cost your time and money. As such, you'll see that's one of the most important qualities of a strong transaction coordinator.
Exemplary attention to detail
Why it matters: A TC who misses something (such as letting a contingency date lapse without multiple reminders) can not only require your time to fix but could potentially impact whether or not the deal closes and you receive your commission.
The solution: A good TC should be detailed oriented by nature and thrive in careful checking of all documentation. Close Concierge, for example, often looks to hire former paralegals to ensure our transaction coordinators have are detail-oriented.
More-than-an-admin
Why it matters: Many TC simply index on being 'paper pushers.' They are great at administrative tasks, like sending you calendar invites for an inspection. However, few TC's are pro-actively thinking ahead to recognize potential issues and then course-correcting to ensure these issues don't occur.
The solution: A good TC is highly intelligent and pro-active individuals who work to protect your close and ensure it happens. Close Concierge, for example, pays well above market rate to full-time employees (everyone else uses 1099's), shares profits, and provides fantastic benefits to ensure our team is only the best.
Second-to-none customer service
Why it matters: A TC exists to make your life simpler. Anything less than a phenomenal customer experience does not accomplish this goal. Secondly, TC's will end up communicating with your clients throughout the transaction. As such, leading customer service is expected.
The solution: Hire a TC from a company like Close Concierge that has the explicit goal of being the number one customer service company in the world, regardless of industry. We study companies like the Ritz Carlton and Chanel to model our own service off of theirs.
Significant real estate experience
Why it matters: Real estate transactions involve legal contracts and the transfer of assets worth thousands, if not millions, of dollars. The best transaction coordinator has this experience.
The Solution: The right TC should have spent years within the real estate industry, with hundreds or thousands of real estate transactions of experience
Dedicated to you
Why it matters: Your business is unique and your market is unique as well. As such, working with a different transaction coordinator for every transaction will complicate your business.
The solution: Work with TC or a company that is dedicated to you and will always be the one to work on your real estate transactions. Further, look for a company that keeps their transaction coordinators for years (see full-time with benefits section).
Works Nights & Weekends
Why it matters: Many transaction coordinators and companies proudly advertise that they only work 9-4 and won't return calls or emails at night or on the weekend. However, as any top realtor will know, nights and weekends are incredibly important times to be working within real estate.
The solution: Work with a real estate Transaction Coordinator or company who is available at nights and weekends. Close Concierge, for example, is the only company that advertises that we work at nights and weekends. We're there for agents when agents need us.
Well-paid, with fantastic benefits
Why it matters: Most transaction coordination companies only hire TC's as 1099 employees with no benefits, like health care. This results in other companies struggling to attract the top talent & struggling to retain this talent. Often, it means agents who work with other companies will work with multiple transaction coordinators each year as their TC's leave the company.
The solution: Close Concierge pays significantly more than market salary, provide fantastic benefits, and share profit between all employees. It enables us to attract the best, and ensure you get to work with the best.
Does a real estate transaction coordinator need a real estate license?
One item you might be surprised to see not included in that list is a license. In fact, most transaction coordinators do not have a real estate license.
A transaction coordinator is technically defined as an "unlicensed assistant." In practice, that means your TC can handle all of the responsibilities mentioned above. The notable exception is California, which looks for a transaction coordinator to have a license.
The items a transaction coordinator cannot do are items that agents would prefer to do themselves. Said plainly, a transaction coordinator cannot legally advise a client on what to do.
For a classic example, let's say your clients are buyers. The inspection report just came back and there are significant issues identified. The transaction coordinator cannot advise the buyers what they should do. It's not Close Concierge's place, nor can we, tell your buyers to walk, ask for a big credit, or ask for the repairs to be completed immediately.
Instead, the agent would most likely talk with the buyers regarding asking for repairs or credits, and how much to ask for.
Hiring a transaction coordinator
Now that we just walked through the key elements to think about when you hire a transaction coordinator, we'll now look into the different options for which you can hire a transaction coordinator. There are a few different options that you could pursue. Earlier within the article, we briefly touched on the different options. Now, we'll explore them in more detail.
Talk with us
What are the options for hiring a Transaction Coordinator?
When it comes to hiring a transaction coordinator, there are several options for which someone could look to hire a TC. We'll spend time looking into all of them now, then evaluate how to find them & their respective pros and cons.
The main types of transaction coordinators are:
In house transaction coordinator
Freelance transaction coordinator
A company that specializes in transaction coordination
In House Transaction Coordinator
An in-house transaction coordinator is exactly what it sounds like: a full-time employee that is fully dedicated to you personally, your team, or your brokerage.
An in-house coordinator is always a valuable member of a team. If you work for a brokerage such as Compass or Redfin, you will already have access to an in-house coordinator or similar real estate professionals who can help you on your transactions. Let's examine how to find them and their pros & cons.
How to find an in-house transaction coordinator
If you are an agent, your brokerage or team already has an in-house TC or it doesn't.
If you are a team lead or broker looking to hire an in-house TC, then you face a much more difficult path. Since in-house TC's are solely dedicated to your team, it is highly unlikely another agent will refer you to their TC. Doing so would mean they would no longer be able to work with that transaction coordinator themselves.
In most scenarios, the team lead or broker will post a job listing online to find the ideal TC, like this team did on Linkedin.
Unfortunately, this often leads to many of the headaches typically associated with hiring. Namely, hundreds of unqualified applicants, significant time commitment to interviewing, and then training the individual after hiring.
Pros of an in house transaction coordinator
However, there are several pros that are significant if your brokerage/team can handle the cost:
The coordinator likely works out of your local office, meaning you can interact in person
The coordinator can assist with other administrative work: namely listing entry and marketing
The coordinator is solely dedicated to you and your team
More ability to train the coordinator in a hands-on setting to meet your business goals
Cons of an in-house transaction coordinator
Most expensive option on this list
Not economically feasible until an agent is closing >10 transactions per month
Significant time investment necessary to screen candidates to find the ideal TC
Requires added fixed cost to payroll each month & will likely require benefits expense
Increases office liability due to a full-time employee
Complete lack of flexibility. If business slows due to a market slowdown, the team might need to lay-off their TC instead of canceling service with a company
Freelancer Transaction Coordinator
When you look into a freelancer transaction coordinator, you can find a more affordable solution that is substantially more flexible. However, the freelancer option is not without cons themselves. Let's look into more detail about how to find them and their pros & cons.
How to find a freelance transaction coordinator
There are multiple ways to find freelance transaction coordinators. The best strategy is often referrals, as that way you can ensure someone has a good reputation and can deliver a great product as a result.
However, that's not always possible. Many realtors have gone to job market sites like UpWork to search for a transaction coordinator.
While these strategies can help you find someone, it is always more difficult to ascertain quality. Even more so, it's hard to guarantee that a freelancer will stay with your team for the long-haul.
Let's look at some explicit pros and cons:
Pros
More affordable than in-house TCs.
More flexible than in-house TC's
You may be able to find someone more talented with a national labor pool
You can hire multiple, ensuring you have a 'backup' TC that has been trained
Cons
Quality is often suspect. The significant volume of 'how to be a transaction coordinator' online courses has flooded the freelance market with inexperienced coordinators
Some TCs might be doing it as a part-time job, or 'side hustle', meaning they might not be that dedicated to you.
'Horror stories' of TC's signing up for remote positions, then becoming unresponsive when needed
They might not fit your company's culture and won't be able to work with other members of your team.
They are not full-time employees, meaning they might not work with you and your team for the long run.
Working hours are typically restricted to 9-5, Monday-Friday
Per-transaction model can increase the price dramatically with significant volume
You won't be able to see your TC in your local office
Transaction Coordinator Company
The last option to consider for hiring a transaction coordinator is looking to hire a company. Multiple companies exist that function as 'transaction coordination as a service.' In short, they are designed to grant you access to professional TCs, without having to pay their high salary.
How to find a transaction coordinator company
There are many companies out there now that are solely focused on transaction coordination as a service. Many agents start looking for a TC company the same way most buyers start looking for properties: online. A quick Google search reveals dozens of different options. Close Concierge, for example, comes up when you search for "Transaction Coordinator"
Similar to how clients learn about great agents, referrals are another great way to learn more about different transaction coordinators.
Finally, many TC companies have designated customer success sales teams that reach out to individual agents who could be a great fit for coordination services.
Pros
You'll gain access to the most professional services at the most reasonable price.
This option offers a mix of the best advantages of hiring a freelancer and an in-house TC.
Your assigned TC will have the needed experience, but they will be dedicated to your transactions.
These service providers will customize the offered service according to your business needs.
Being backed up by a professional name can improve your chances of growing your business.
Cons
Not all transaction coordinator companies are created equal-make sure to deeply evaluate if your company can provide exactly what you are looking for from your TC
You won't be able to see your TC in your local office
Why a transaction coordination company is your best bet
In looking at all of the above options, working with a transaction coordination company is a clear leader for the best options for agents looking to save time and grow their business.
The largest reason why is a company can provide you the 'best of both worlds' when you evaluate a full time employee vs a freelancer. For example, you have no commitment & incredible flexibility when you work with a company. You can pause or cancel service when needed, which simply isn't possible without laying off a full-time employee.
Similarly, a company is often the most cost-effective option. A full-time employee requires a significant salary and benefits, while a company instead will charge a fee for working with you and/or your agents.
How to evaluate transaction coordination companies
Earlier, this article talked about a few qualities that transaction coordinators should have. All of those qualities, such as the incredible attention to detail and willingness to work outside of 9-5, are still extremely important to consider.
However, there is one extremely important factor to consider when evaluating different companies: how they treat their transaction coordinators.
For example, most TC companies "hire" transaction coordinators as 1099 contractors
The unfortunate reality is that many transaction coordinator companies do not treat their employees particularly well. As a contractor, the TC makes less, ends up needing to provide their own health insurance, and does not get to enjoy a company culture.
When these elements add together, it does not create the best working environment for transaction coordinators. A sub-optimal working environment does not attract the best talent and does not retain the best talent.
As an agent looking to hire a transaction coordination company, these facts do not bode well. It means you might not be working with the best and may not have the best experience.
This doesn't make any sense at all. A transaction coordination company has one key asset, and that's the quality of its coordinators. Anything other than the best possible work environment doesn't lead to the best quality of coordinators.
Close Concierge is different: we are entirely focused on treating our employees right so they treat you right
The quality of the transaction coordinator is the most important factor in making sure the coordinator adds value for the agent.
To ensure Close Concierge has the best quality team members, we do everything we can to provide the best possible working environment to attract and retain the best:
Well above market-rate salary
Equal profit sharing amongst all employees
Fantastic health insurance & other benefits, including one year of fully paid parental leave
All employees involved in all management decisions, including hiring decisions
By hiring, incentivizing, and enabling the best possible talent, we believe that means our agent customers receive:
The best possible service
The best possible employees
A long-term relationship with your Close Concierge, since our turnover is so low.
Isn't this approach bad for business?
We believe the exact opposite.
We firmly believe that world-class customer service, enabling by treating world-class employees right, will always win.
If you agree and are looking for a phenomenal transaction coordinator, book a call with our team HERE to chat more.
Close Concierge
Close Concierge is a new kind of transaction coordination company. Our goal is to be the number one customer service company in the world, regardless of industry. To provide agents that incredible service, we hire the absolute best by offering the best possible place for transaction coordinators to work.
If you are in the market for a transaction coordinator and would like to learn more, schedule a meeting here with our team
Updated September 10th
Hi, I'm Sean and welcome to Close Concierge. I'm a licensed real estate agent in the state of IL (license #475202452). I'm also an active real estate investor and previously was CEO of a transaction coordination company, as well as a property manager. In total, I've been a party to more than 600 real estate transactions! I write on this website about once every week to answer some of the most common questions I come across on a day to day basis within real estate.